Wonderful news!  The River Vartry Protection Society has been accepted for a project from the National Strategy for Angling Development Fund.  The Ashford Weir has been in a lack of repair since January 2016 and with no champion to look after it.  We all know that the fish are better off without the Weir but it has left an ugly scar on the River Vartry.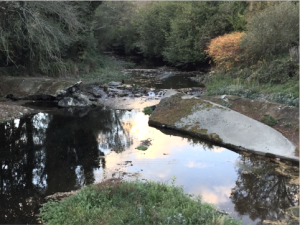 Without action and without any future because of the size of the project, we decided to have a practical plan to divide the project into two parts.  The first part is to get the Wicklow County Council to fund removal of the existing concrete and to level and grade the river base according to a Design and Implementation Plan made by the Inland Fisheries Ireland.  The work will be undertaken by the WCC but YOU NEED TO CONTACT YOUR LOCAL COUNCILLOR TO GET THE MONEY FROM THE 2018 BUDGET! Wicklow County Council are agreeable to do the work, IFI are agreeable to advise and only we need to "press" our Local Representives to get Phase 1 complete.
The grant is for Phase 2, which will be an Architectural Contest to design an Ashford Waterscape that will eventually be voted for by the public and be constructed here at the Ashford Bridge.  At the same time we will remove Japanese Knotweed, trim the overhanging branches and generally clean up the area where the Weir once stood.  This is to enhance the habitat of the Salmon and angling potential of the River Vartry.
We are so pleased for this opportunity given by the National Strategy for Angling Development Fund 2017 to the River Vartry.
December 11 2017 07:06 pm | Active and Administration and Ecology and Fish and Politics
Leave a Reply